San Antonio private party
Dr. Zog, Thank You! Thank You! Thank You! Your band made our Mardi Gras Party a huge success. Our employees are still buzzing about the great band we hired. The music was high energy from the moment you hit the stage. It was the perfect vibe for this themed party. The highlight of the evening had to be the Mardi Gras parade. Dr. Zog leading 140 people through the streets of San Antonio is classic. It is a memory we will keep forever. I can't say enough how pleased we were to have you at our event. You are definitely on the top of our list for future company functions.
Thanks again and let's go zydeco." — Robin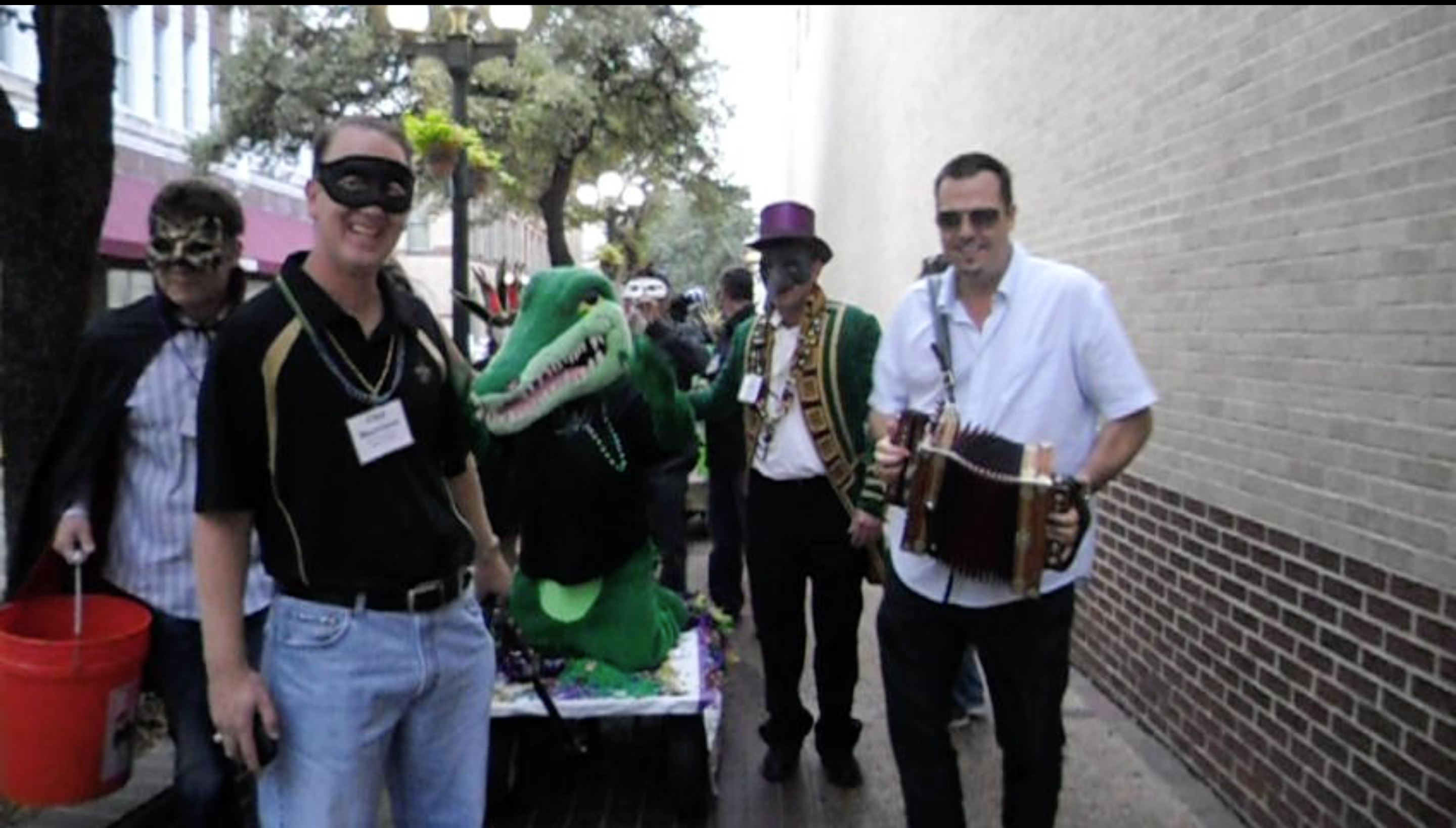 New Orleans wedding
It has been non stop ever since our wedding but I just wanted to tell
you what a fabulous time we had because of you guys. This wedding was
long awaited and much anticipated and I had two goals. A New Orleans
feel and a really good time and you guys really brought it.
I have no doubt that all of us had a chance to really cut loose and let
our hair down with you guys. It had been a stressful week of
preparation for me and I was able to let it all go the second I looked
out on the patio and heard that beautiful music!
Thanks,
Beth
Zilker Clubhouse wedding
Zog's,
Never really thanked you for playing at our wedding in April. You
guys did a great job and we received so many compliments about the band.
Not just the music (which was great) but comments about how ya'll kept
the focus on the wedding party. Thank you so much!
Love,
Jesse and Rick
The Austin Community Church
Dr. Zog,
Guys thank you for playing at our Family Reunion…you were great! We
appreciate you and loved what you added to the day…I have heard
nothing but wonderful reviews! Thanks again and we will see you around
Austin.
Thanks,
Jenny
Rise Across Texas Challenge
Thanks so much for being a part of our luncheon for the Rise Austin
kids and the Salt Lick party. You guys were awesome and the perfect vibe
for the parties!
Thanks so much,
Tabitha